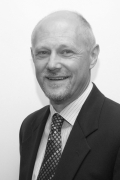 Qualifications: DipSurv MRICS FNAEA
Position: Residential Sales Director
Office: Lincoln
Tel: 01522 538888
Email: .(JavaScript must be enabled to view this email address)
I joined the practice in September 1982 as illness cover for five days……..and I never left. Over the following thirty plus years I have, with the good grace and kind support of Robert Bell and the Bell family, been materially involved at all levels with the successful development of Robert Bell & Company.
The company has gone from being predominantly a Land Agency practice with a single office selling a handful of homes, to a multi-disciplinary practice of Chartered Surveyors with four offices, working in conjunction with The Mayfair Office in London and enjoys the most enviable of professional reputations across Lincolnshire as property consultants.
I class myself as fortunate, in that I work everyday with some of the very best in our profession and for some of the most loyal and grateful of clients. My work within the practice comprises:
Overseeing the day to day running of a busy residential sales department across four offices.
Handling a broad range of Town, City and Country Homes across the heart of Lincolnshire.
Offering a focus on quality Period & Listed Homes from small cottages to residences of £1,000,000 and more.
Providing a diverse range of clients with up-to-date marketing and sales expertise and advice.
Conducting professional market appraisals on a wide variety of property.
Producing marketing strategies for client's homes using both traditional and digital/online media.
Coordinating with The Mayfair Office on national PR and sales to buyers in London and the South.
Working as an RICS Registered Valuer conducting professional valuations for sale and purchase, probate and matrimonial purposes, appointed as Expert Witness for individual clients and on behalf of the court, as well as providing valuations for capital gains and inheiritance tax requirements.
Experienced Auctioneer covering Property, Antiques, General Chattels and Farm Machinery.