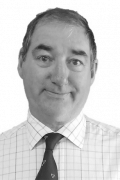 Qualifications: BSc (Hons) FRICS FAAV
Position: Land Agent
Office: Horncastle
Tel: 01507 522222
Email: .(JavaScript must be enabled to view this email address)
Robert is the sixth generation of his family to pursue a career in land agency. His ancestors were factors in Perthshire in the early 1800's, moving to Lincolnshire in 1842. In 1897 Robert's grandfather was articled in Old Bank Chambers (still the firm's current office) in Horncastle.
So from an early age Robert accompanied his father on annual tenantright valuations and farm sales. On leaving school he worked on Ben Baxter's Greetham farm gaining invaluable practical experience. He graduated from Reading University with a Degree in Rural Estate Management in 1977 followed by a year in Yorkshire with Wells Cundall, a go ahead regional firm selling at Malton market, in those days one of the largest livestock markets in the country.
Returning in 1978 Robert became a partner in 1982 having passed his final RICS and CAAV examinations. His work includes a variety of disciplines centred around property and agriculture in particular. He has overseen the expansion and development of the firm with departments specialising in auctions, residential lettings, commercial property, estate agency and surveying, as well as land agency. In a relatively smaller personal firm, Robert takes an interest in all departments.
Robert is a past president of the Lincolnshire Association of Agricultural Valuers, a fellow of the Royal Institution of Chartered Surveyors, a Registered Valuer, a past president of Horncastle Rotary Club (Group Study Alumnii to California) and a past Chairman of Horncastle Chamber of Commerce.