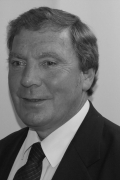 Qualifications: BSc (Hons)
Position: Senior Residential Lettings Negotiator
Office: Horncastle
Tel: 01507 522222
Email: .(JavaScript must be enabled to view this email address)
Paddy was born in Gloucestershire. He moved to Lincolnshire in 1974, having graduated in Botany at Nottingham University. He has held a number of positions, mainly in agricultural-related businesses, in a variety of roles, including production management and, latterly, Health and Safety. His current role within the Company is as a Lettings Negotiator, dealing day-to-day with Landlords and Tenants.
He has lived in Coningsby since 1982, and plays an active part in community life there. He has served as Mayor of Coningsby, and is currently a Town Councillor. He is also involved with the Royal British Legion.
Paddy's interests include the study of military history (with a bias towards The Great War, and military aviation), and DIY. He will admit that he is never happier than when he is making a noise, creating either sparks or sawdust!